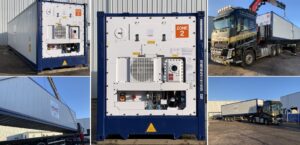 Our client was looking for a refrigerated solution to store 16 off 1200 x 1000 IBC's containing a product with a flash point of – 4 degrees. The equipment had to be rated for a Zone 2 Hazardous Area and large enough to accommodate the requisite volume advised by the client.
Purpose Built Container to CSC/ISO
> Zone 2 refrigeration equipment complying with ATEX Directive & CE Requirements.
   – ATEX Classified as Group II, Category 3. (Ex II 3 G Ex e nA d mb IIB T3)
> Easy access single handle door with emergency safety override system.
   – With built in single handle door for personnel access
   – With emergency safety override system
> 2 x Zone 2 – 5′ ATEX LED light with 3hrs battery backup.
> Zone 2 ATEX Man-trap e-stop. visual & acoustic beacon recessed into container
> Equipment Emergency Stop.
> Equipment shut-off when man-trap alarm activated
> Flame proof glanding through-out.
> Aluminum T-bar airflow flooring throughout
> Power requirements – 380/460 V 50/60 Hz. 4P (3 Phase, earth).
> Loading Ramp – 2000mm x 1140mm – SWL 1500Kg
> Hand Pallet Truck – 1150mm x 540mm
All delivered as per client specifications and delivery turnaround to match client's tight timeframe.
Contact us anytime – info@reftrade-uk.com or www.reftrade-uk.com
#reftradeuk #bespoke #pharmaceutical #containers #reefer #onestop #supportingtheUK #hazardousarea #zone2 #EX #ATEX