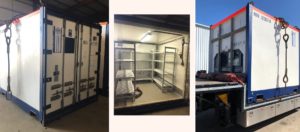 Major survey support vessel company requested a purchase of a stock item Reefer for immediate delivery to Falmouth Docks, for onward passage to the United States.
Reftrade UK do not sell any stock hire reefers however considering the client's urgency and direct response requirement to COVID-19, we obliged.
Quick turnaround in recertification of container and sling sets, Electrical Inspection, FGAS service and external paint clean up.
System Comprised
> Refrigeration & Freezing (-25c to +25c).
> Internal lighting with 180min emergency back-up.
> Man-trap e-stop with visual & acoustic beacon & Equipment Emergency Stop
> Equipment shut-off when man-trap alarm activated.
> Aluminum flooring throughout.
> c/w set of DNV Lifting slings.
> Power requirements – 380/460 V 50/60 Hz. 4P (3 Phase, earth).
> 4 tier Heavy Duty Hygienic racking throughout
Refurb and Testing completed following all Government COVID-19 guidelines.
All delivered on time and on budget to Falmouth Docks as per client tight timeline.
#reftradeuk #bespoke #offshore #containers #reefer #onestop #supportingoffshoreoperations #USA #refurb #FGAS #doingourbit