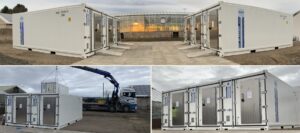 > Purpose Built Container to CSC/ISO
> Refrigeration & Freezing (-40c to +40c).
> Easy access st/st butchers door with emergency override system.
> 2 x Internal LED lighting.
> Man-trap alarm with acoustic and visual beacon.
> Chill curtain.
> Aluminium non-slip chequer flooring.
> 4 tier Heavy Duty Hygienic racking throughout
All delivered on time and on budget as per client specifications.
Contact us anytime – info@reftrade-uk.com or www.reftrade-uk.com
#reefercontainer #clean&green #reftradeuk